Oil on canvas paintings of Lake County by Ron Keas
.....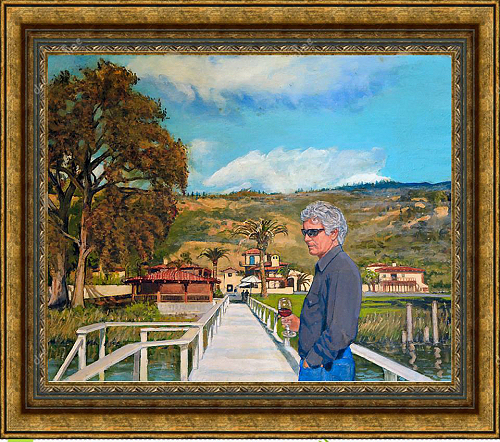 Jim Fetzer at CEAGO
oil on canvas painting by Ron Keas
.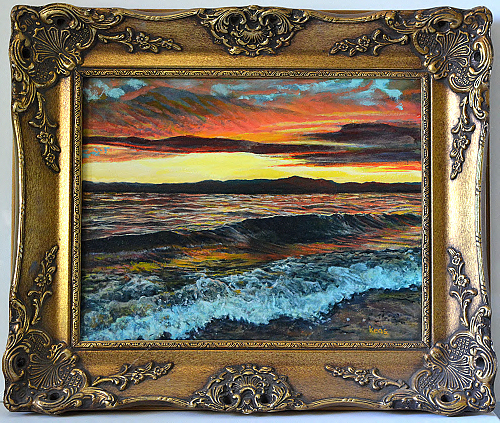 Sunset on Clear Lake
oil on canvas painting by Ron Keas, done from one of his photographs of Lake county
Lake County Artist/photographer has been showing the best views of Lake County to the World for over 12 years with his artisic photography. He is also a Nationally well known artist, known for his oil paintings. His paintings have been published in books, magazines, and newspapers, including the front page of the New York Times, as well as websites like the Huffington Post. He has art art shows in the National Democratic Convention in Denver, Art Galleries in Carmel California, and The State Hermitage is a museum of art and culture in Saint Petersburg, Russia. His paintings have also been shown on the Tonight Show, The Today Show, and the Conan O'brien Show. They are also owned by celebrities like, Clint Eastwood and Jay Leno. He has been painting with oils since 1960, and he work is considered highly collectible.

Now he is offering fine art oil on canvas paintings of Lake County. He offers you a selection of over 300 of his best photographs of Lake County to choose from, and he will paint a fantastic oil painting of that photo.

Pictured above are two examples of his oil paintings he made of two different Clear Lake sunset photos he photographed.

Sizes and prices of paintings. (on streatched canvas, ready to frame)

16x20" - $700.00
18x24" - $900.00
24x30" - $1500.00
24x36" - $2000.00

If you have a property or view that you want Ron to paint instead of one of the photographs in his album, He will photograph that property, or view for your approval, and create the painting from it.
$100.00 extra for the photographic service, and you get to keep the high resolution photograph on a CD.

Ideal for home or business.
Select a photograph for a painting from this photo album.

You may also order photo prints from the photo album with Pay Pal
---


Ron specializes in Oil painting portraits.
He will work from your photographs. Same sizes and prices as Lake County Nature.

See more oil portraits by Ron Keas

Below is a slideshow of some of Ron's Lake County Photographs

.


Ron Keas is the proud recipient of the Stars of Lake County Award for professional arts
His photography of Lake County is used on billboards, magazines, calendars, phone directories, and websites.

Ron Keas
PO Box 474
Lucerne, CA 95458